Fortinet Network Firewalls (NGFWs) Protect,
Consolidate, and Enable Work From Anywhere To
Deliver Best-in-class Enterprise Security
For over 20 years, Fortinet's mission has been to secure people, devices, and data everywhere.
We have been a driving force in the evolution of cybersecurity and the convergence of networking and security. Our network security solutions are the most deployed, most patented, and among the most validated in the industry.

Work From Anywhere
The shift to remote work is expected to persist even after the pandemic. 52% of CIOs expect work from home to increase in 2021.
Gartner – Top Priorities for IT Leadership 2021
Network Edge Explosion
By 2025, 70% of digital business initiatives will require I&O leaders to report on the business metrics from digital experience, up from less than 15% today.
Gartner Market Guide for Digital Experience Monitoring, August 2020
ID G00724605
Application Journey
By year-end 2023, 50% of large enterprises will have a documented edge computing strategy, compared to less than 5% in 2020.
Building an Edge Computing Strategy Gartner, published 3, September 2021
Sophisticated Attacks
36% of organizations state the growing sophistication of the threat landscape is the top challenge in preventing ransomware attacks.
Fortinet – Ransomware survey 2021
Broad. Integrated. Automated.
The Fortinet Security Fabric brings together the concepts of convergence and consolidation to provide comprehensive cybersecurity protection for all users, devices, and applications and across all network edges.​
Cybersecurity Mesh Architecture (CSMA) is an architectural approach that promotes interoperability between distinct security products to achieve a more consolidated security posture. The Fortinet Security Fabric reduces operational complexity while ensuring compliance, emphasizes interoperability as well as analytics, intelligence, centralized management, and automation, and integrates with a broad ecosystem of technologies and vendors.
Founded in 2002, FortiGuard Labs is Fortinet's elite cybersecurity threat intelligence and research organization. A pioneer and security industry innovator, FortiGuard Labs develops and utilizes leading-edge machine learning and AI technologies to provide customers with timely and consistently top-rated protection and actionable threat intelligence.
FortiGate Network Firewalls enable organizations to build security-driven networks that weave AI/ML-powered FortiGuard services deep into the Hybrid IT architecture to secure any edge at any scale, providing more visibility, consistent, coordinated end-to-end security policy, and optimal user experience. Fortinet leverages efficient supply chain management to meet customer delivery and installation timelines.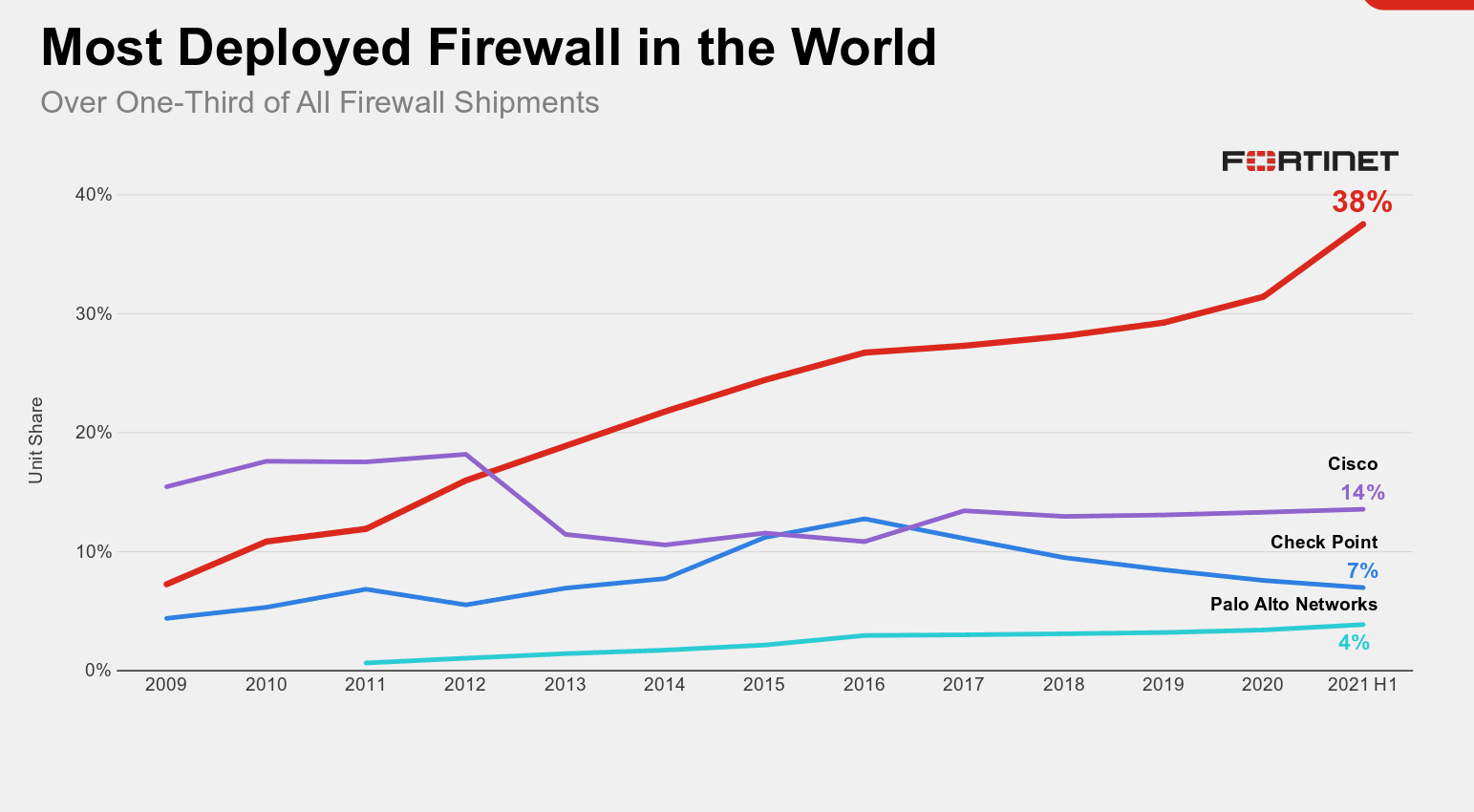 Watch a video about some of the ways Fortinet can secure at any scale.
Drop us a line anytime and one of our representatives will contact you as soon as possible.
Call us today: 806-418-7700
Regular Business Hours Are Mon.-Fri. 8AM-5PM, Sundays and evenings by appointment.